Dog Training Gets This Month's Spotlight
We are all dog lovers at Longwood Veterinary Center and have years of experience raising our own dogs.  We are happy to give you advice on routine dog training including housebreaking, crate training, and basic commands. We also recommend Dr. Sophia Yin's book, "The Perfect Puppy in 7 days" for tips and sound instruction on ways to make training more effective and rewarding. Often we find our clients with puppies, or even older dogs, seeking opportunities to do more than just the routine with their pet. If you are looking for something unique and rewarding that provides a wonderful service to our community, consider training your dog to be a therapy dog!
An example of a therapy dog in action is Sumo, a 6 year old Rottweiler, whose owner, Sharon, has been a client of Longwood Vet for 15 years. Sharon works hard to train her dogs in basic obedience and to become therapy support dogs. Here is their inspiring story:
"My first Rottweiler was named Switzer and he was the best dog I ever had. One day I saw an article about therapy dogs in the newspaper and I knew Switzer would be perfect!  I started with the organization Faithful Friends in 2003, and they placed me at Manor Care Nursing Home on Foulk Road, Wilmington, De. He was a natural and brought so much love and happiness to all the residents. Surprisingly, it was even more rewarding for us. Later I was asked if I would bring Switzer to The Masonic Home to visit residents.  Many of the residents had dogs most of their lives and missed not having one around. We began weekly visits that were enjoyed by all. When Switzer was 9 years old I decided to get another Rottweiler puppy, and Sumo joined our household. Everyone wanted to meet the new puppy so when Sumo was 10 weeks old and potty trained, I took him along to the various homes. I had told everyone I would bring him again after he had earned his TDI (Therapy Dog International) title at one year of age.  However, he was so calm, I decided to bring him while he was working on his certification. I do obedience training with my dogs and this is a must if you want to have dogs that can go anywhere with you and are always welcomed wherever you go. I always begin training my dogs at 8 weeks of age. The first year of your dog's life is so important. Puppy brains are like sponges and they are so eager to learn. I take them everywhere I go and socialize, socialize, socialize them with people and other dogs.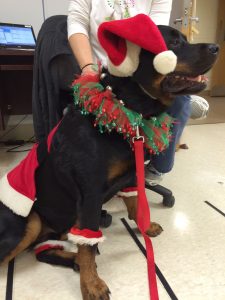 To get your TDI title you must show that your dog knows how to handle himself around other dogs, people in wheelchairs and on crutches, loud noises, and excel in basic obedience. Having Switzer help me train Sumo made my job much easier as he was a perfect example to follow. People are always a little shocked when they see 100 pound Rottweilers as therapy dogs, but they are the best in my opinion. This breed is one of the smartest, most loving and patient breeds I have ever had the pleasure to own.  When we are at the nursing homes they are very gentle and yet when I show them in obedience, agility and barn hunt shows they are excited to enter the ring and perform.
Switzer did therapy work until the very end of his life and we have many memorable moments from visiting the nursing home residents. He touched so many lives in his 11 years on this earth and now Sumo is doing the same. Many people in the homes don't have any visitors and they appreciate our visits. There are so many memorable moments from visiting the nursing homes. On one occasion we were in the Alzheimer's unit and a gentlemen who had not spoken since admission to the unit actually said, "There's my big black boy", whenever he saw Switzer. One nurse loves to see us visit a lady who doesn't like to take her pills but will do so willingly when Sumo is there. Sumo is now six years old and is definitely the most loving dog I have ever owned. I plan to continue visiting nursing homes with him for many years to come. The most fulfilling thing you can do with your time is to bring a smile or laugh to those who need it most. "
If you think your dog might be a perfect therapy dog, check out these two great organizations:
PAWS for People is a local organization serving the Mid-Atlantic region- all of Delaware, and parts of PA, NJ, and MD. Their mission is to provide loving individualized visits with gentle, sweet pets. PAWS for People has a number of different programs in place which include adults with special needs, elderly, children, hospitals, and emergency response teams. Dogs are required to be licensed through their state and PAWS has a University for advanced training. Some courses are mandatory for participation in specific programs.
If you think your pet would make an excellent companion for visiting nursing homes or reading with children at the library, check out their website and share your story with us at Longwood Vet!
Canine Partners for Life is a non-profit service provider of canine service dogs that has been serving the community for over 20 years. The mission of Canine Partners for Life is to increase the independence and quality of life of individuals with medical, physical, developmental, and cognitive disabilities. The achieve this by pairing them with a professionally trained service and companion dog. Longwood Veterinary Center is proud to support Canine Partners for Life by annually donating preventative health care or any surgical or medical care that some of their special dogs may need while in training.
Learn more about the important roles these special dogs play in people's lives by visiting their website: http://k94life.org/
Written By: Tara Corridori, LVT