Point-to-Point Event Features
Join us for kids' activities, festive tailgating, and beautiful hospitality tents with elegant luncheons.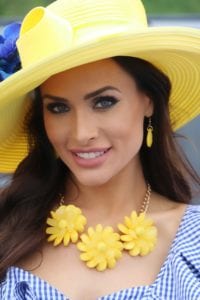 Hunt Brunch Hospitality Tent
Don't miss the opportunity to enjoy a lavish lunch at this year's Hunt Brunch Tent, featuring a catered menu, including food and beverage, admissions, and programs. $2,000 for a table of 10. $175 per person for unreserved admission. $75 for under 21. $25 for kids under 12. To reserve seats, contact Jody Simundza.
DuPont Country Club Experience Tent
Come get a taste of membership at the DuPont Country Club Experience Tent. Enjoy complimentary samples from our chef 's menu; and our golf, tennis, and fitness professionals will be available for all of your questions. While you are here, take your "shot" at some of the new technology coming to the club as part of our extensive renovation plan.
Kid Shelleen's and Tito's Outpost
Kid Shelleen's & Tito's Handmade Vodka Tex-Mex Tent Join us at our private tent on the rail for Texas-style hospitality! $150 per person.
Receive 1 VIP parking pass with the purchase of 2 tickets. For details, click here.
George A. 'Frolic' Weymouth Parade of Antique Carriages
Come and see the glorious parade of elegant, antique horse-drawn carriages seen in Town & Country magazine as they travel the course.
Best Dressed Head-to-Toe Contest
Wear your finest chapeau to match your ensemble, and our "fashion experts" will comb the crowd to find who is best dressed from head to toe. Winner receives a $500 hat from Christine A. Moore Milliner and a $500 shopping spree from the Wilmington Country Store.
Plus, Enjoy LVC at…
Canine Capers and Tails for Tito's
Pups at Point-to-Point! Be sure to stop by our booth to say "Hello" and treat your pet to a snack and water break. Make sure you also visit "Tails for Tito", snap a few great pics with your pup, and have some fun on the doggie obstacle course.